Gan Ami Early Childhood
At Gan Ami Early Childhood Education, we are on a journey, or masa in Hebrew.
This journey is one we take in connection with one another – from the littlest infant to the most confident of K4 kiddos – from the newest and most nervous parent to the most experienced educators with decades of experience.
We know our most important job is cultivating relationships – between teachers and children, teachers and families, and the school and our community.
While these relationships may look different behind a mask or through the lens of a computer, this strong and beautifully intimate connection is deeply felt and treasured by us all.
Gan Ami is family, our mishpacha. We invite you to join our family and come on a journey of discovery.
Infants • Toddlers • Twos • K3 • K4 • More than a day care, more than a preschool, our Gan Ami early childhood education program helps children discover a joy of learning, starting at 6 weeks and carrying through to 4-year old kindergarten. Partnering with parents, we encourage individual development through shared experience. In this safe, inclusive environment, children can explore the Jewish values of respect, charity, kindness, and repairing the world, and celebrate Jewish tradition and culture among a diverse community of families.
Two Locations • We have schools in both Whitefish Bay and Mequon. Click the links or scroll down to learn what makes each school community unique.
High Quality Educators • If families are the soul of our program, our faculty is the heart. Their continued professional development enriches the classroom experience at every age. We make it a priority to attract and retain the best educators in order to provide families with the continuity of care and level of learning that they expect.
Inclusively Jewish • Jewish traditions and values are at the heart of everything we do – celebrating Shabbat, Havdalah and holidays; saying blessings together; and noting God's gifts to our natural world. In keeping with our values, every member of our school community is treated with kindness and respect in recognition that we are all created b'tzelem Elohim (in the image of God).
Focus on Family • As JCC members, Gan Ami families enjoy all the benefits of membership. Parents engage with our fitness center and classes, arts programs, and family events. At the JCC, the entire family makes friends for life.
Accreditations • Gan Ami is rated by the State of Wisconsin as a Youngstar 5-star provider and has earned national accreditation from the Association for Early Learning Leaders' National Accreditation Commission (NAC).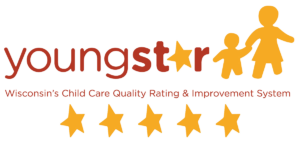 Meet Our Leadership Team
More to explore
Beyond Gan Ami, check out more ways for children and families to grow, learn, and play together at the J.
Take a Class
Explore art, dance, gym, and sports in classes that are open to the community for both parents & children together as well as kids-only fun.
Learn More »
Hourly Childcare
Catch a group exercise class or squeeze in some reps knowing your children will be well cared for while you take care of yourself.
Learn More »
PJ Library
Grab a book and get comfy. Children 6 months to 8 years will love exploring Jewish culture through literature, music, and story time.
Learn More »